I started the Angie Sweater last night. I got quite a bit done during the extremely long Italian Futurism-esque opening ceremonies (which, I'm insane and in a minority, but I actually liked it). I also got a lot done on the train on the way home from Queens. The N was actually making local stops through lower Manhattan, something I hadn't accounted for. Here's a WIP shot:
This is the bottom part of the back of the sweater. It's being made of Knit Picks Sierra which is a wool/alpaca blend.
I forgot how much I like watching the Luge! :)
So I was bad. Bad? I have limited funds, and yet, I continue to buy random knitting things. One is really helpful, but neither was imperative for me to get
now
. Oh well. What are they?
I got Ann Budd's
The Knitter's Handy Book Of Sweater Patterns
. Some of my Stitch 'n Bitch friends were talking about it last night at the opening ceremonies party we had, and it seemed like a great thing to get. I have all that mohair that I'd like to do something with, and it should be enough to turn into a sweater. Also, my brother recently contacted me and he wants me to knit him a sweater. I can use some of the construction ideas in this book to help me create something that he should like. And it'll be something I created from top to bottom. I like that idea.
The other thing that caused my baddness is just really really good.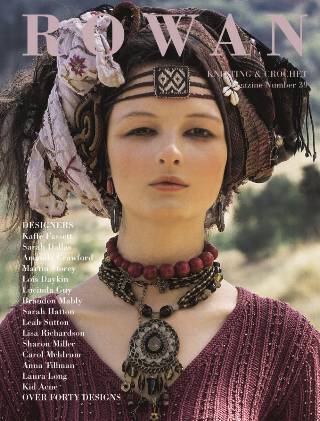 Rowan's new magazine No. 39
. I just saw too many patterns in here to use yarn that I already have to not buy this. There's a necklace that I'll probably make out of the 28K silver yarn that I have. I shrug/shawl that I can make with my Brook's Farm yarn. And a really pretty cardigan that I want to make out of Knit Pick's Shine. I've wanted to make
something
out of shine for quite some time, and have been looking for the perfect project. There are a lot of projects in there before I can get to that, which is good because I don't really have a lot of money to buy yarn right now.
Well, that's it for now. I've gotta keep at this sweater if I want to even think about getting that gold metal!